Welcome to Gleanings for the Hungry
As a mercy ministry of Youth With A Mission (YWAM) our vision is simple: "to feed the hungry, both physically and spiritually".  A large part of fulfilling our mission is the procurement and production of shelf-stable food. Throughout the year, dried soup mix is blended from various donated ingredients.  During the summer, we sun-dry peaches and nectarines that are not market-grade. We are a destination for teams of all ages, youth groups, families, and individuals to work together for eternal impact in a hurting world. Everything we produce is given free of charge, to partner ministries around the world, and then distributed with the love of Jesus.  Gleanings for the Hungry is an all-volunteer 501(c) (3) registered Non-Profit charity.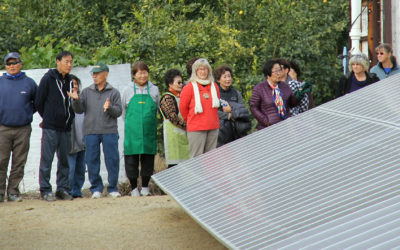 The forecast this morning here at Gleanings called for rain.  And when it rains it gets muddy, and when it gets muddy, you really don't want 50 people walking around in the mud - it gets on everything!  We did, however, want to spend some time to walk the solar field...
read more